Learning agreements & Accreditation
Learning Agreements & Accreditation
Important! The Learning Agreements for Study Abroad Courses Informatics are handled by the Professorship of Open Source Software. To request a learning agreement, please follow the process outlined here.
---
In this section, you can find a step by step guideline of the accreditation process for course and examination achievements obtained abroad, the necessary documents and relevant contacts.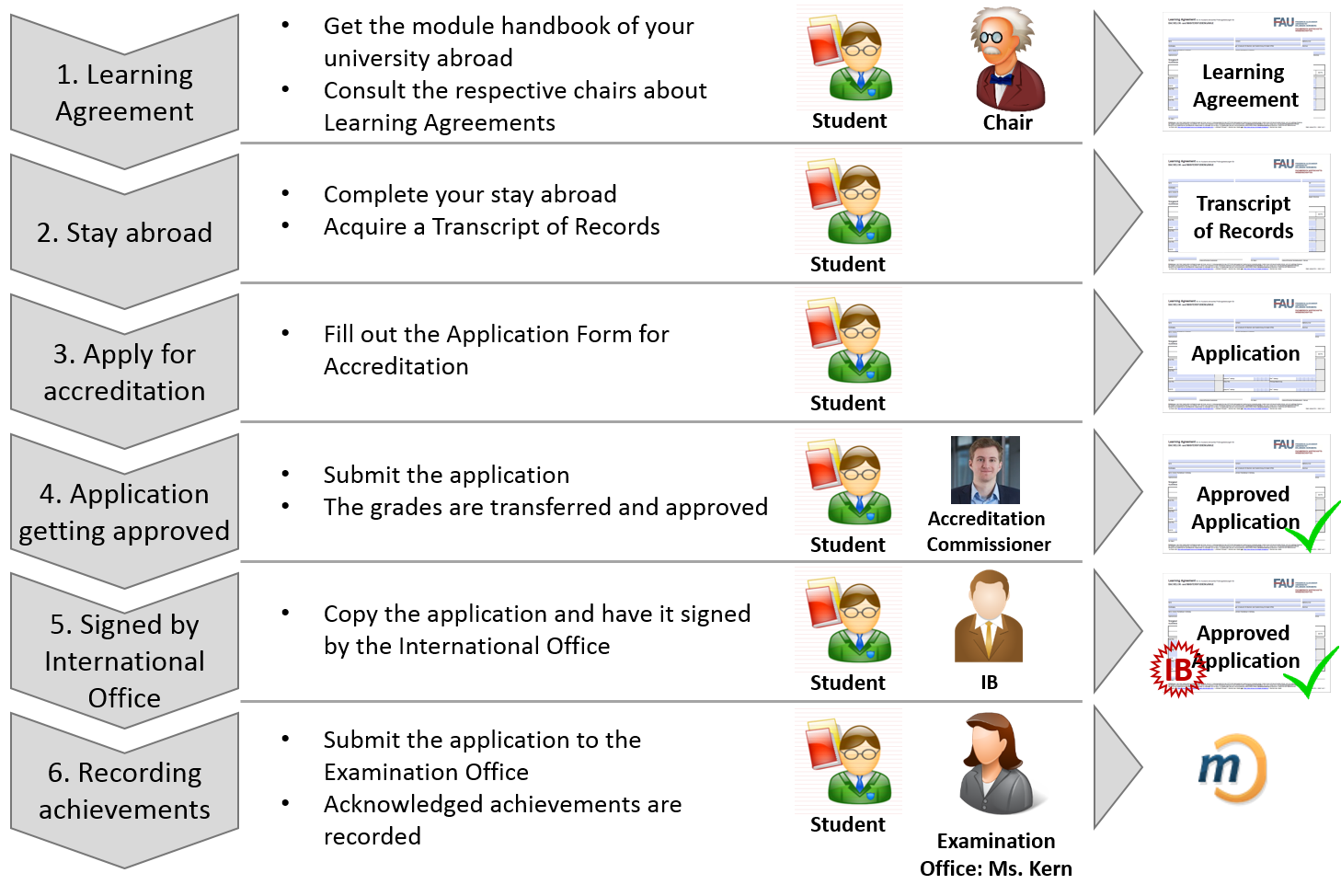 Learning Agreements:
The Accreditation Process:
Here you can find a detailed description of the accreditation process for IIS displayed above: Accreditation Process: Visual Overview (PDF).
You can also find the general information for learning agreements at the School of Business and Economics here:
When you come back from your semester abroad, you have to fill out the Antrag Anerkennung Ausland (= Application Form for Accreditation) (PDF, WiWiQ-Portal)

Please make sure you fill out correctly the credits and the grades you obtained abroad, the module and the exam number for the FAU course (if applicable), and the ECTS you will get at FAU – these are columns 1 to 6 from the accreditation form.
Do not fill out the column for the transferred grade (column 7 from the accreditation form). This is done by us.
Please make sure you submit the following documents necessary for accreditation:

The Antrag auf Annerkennung
The learning agreements
The transcript of records.

Please note: you are responsible for correctly filling out the form, as described above. If the information is not correctly filled out, or something is missing, the documents will be returned from the examination office and the process will be further delayed.
Every course needs to be on a separate row as each course has it's own FAU module and exam number!
Please also check the FAQ document above.
If you have any questions on the learning agreements, please contact Matthias Hafner:
School of Business, Economics and Society
Chair of Information Systems (IT-Management) (Prof. Dr. Amberg)